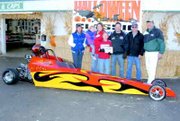 IDAHO - Halloween is taking on a new meaning for Layne Linder of Outlook.
Already a two-year veteran of National Hot Rod Association competitions, despite being just nine years old, the Outlook youngster won top honors recently at the NHRA Halloween Classic. The drag racing event was staged at Firebird Raceway in Boise, Idaho.
It's the second straight year Linder has earned a first place finish at a Halloween drag racing competition. In 2006, he turned the trick at a raceway in Seattle.
The son of Wayne and Wendy Linder, Layne competes in NHRA's junior division. The younger drag racers compete on eighth-mile tracks, half the distance of the quarter-mile strips of pavement the grizzled veterans race on.
In the junior division, the youngsters can choose to compete in either the Lightning or Thunder classes of competition. The Lightning drag races are for those vehicles that can cover the eighth-mile track in under 11 seconds.
Linder's father, Wayne, a long-time NHRA veteran who has numerous titles to his credit, has his son's dragster set up to compete in the Thunder class. At the Boise event, said the elder Linder, "...Layne consistently ran at 12.80 seconds in the three rounds he competed."
The Outlook youngster won his opening round event, then knocked off a young drag racer from Utah in the semi-finals. In the finals, Linder bested a competitor from Oregon.
At Boise, the young Linder's strength in all three races was getting off the line quickly.
"He had a better reaction time than all three of his opponents," said the older Linder.