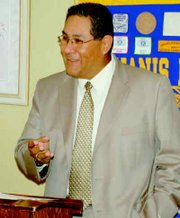 Wrapping up his first year at the Sunnyside Chamber of Commerce helm, Jesse Hernandez said his goal has been to "put commerce back in the chamber of commerce."
Hernandez, president of the chamber since January of this year, made his remarks this morning, Wednesday, during the Sunnyside Kiwanis Club's meeting at the Sunny Spot Restaurant in Sunnyside.
He said being a non-profit group doesn't mean the chamber has to lose money.
Noting the chamber in the past "focused on putting on events," Hernandez said he wants the chamber to build on that by also reaching out to the business community. He said he'd like to eventually see the chamber not have to rely on city of Sunnyside funds for its operations.
With a dwindling membership, Hernandez said the first job was to make the chamber more of a fun place. That meant dropping membership requirements in order for a new business to have a ribbon cutting ceremony.
A financial planner by trade, Hernandez said "it sent out a bad message" for the chamber to welcome a new business by asking for money up front before helping to celebrate its opening.
Hernandez set a goal of increasing membership by 25 percent in 2007. "I thought that would be easy given our membership but it was hard work," he said. The effort paid off as chamber membership grew by 30 percent this year.
The Mabton native also noted other successes this year, such as the tri-chamber socials with Prosser and Grandview and teaming up with YVCC to offer classes for business owners.
That doesn't mean everything was a success in 2007.
Hernandez noted a lack of volunteers helped bring a halt to the chamber's effort to bring a business expo to Sunnyside earlier this year. He said the chamber held one block party for Lincoln Avenue merchants this year and that, too, was a learning experience for the future in knowing what to do and what not to do.
Looking ahead, Hernandez said this year's Lighted Farm Implement Parade on Saturday, Dec. 1, will be preceded at 6 p.m. on Friday night with a Christmas tree lighting ceremony at Centennial Park in Sunnyside. He said a 15-foot tree is planned for the city's downtown hub.
Speaking of hub, that's the word Hernandez uses to describe his vision for the chamber, a "hub" or connecting point for what's happening in the city.
To that end, Hernandez looks ahead to 2008 with hopes of having service organizations, municipalities and the media represented on the chamber board.