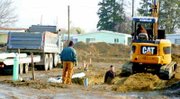 A $750,000 dental clinic expansion at 1721 E. Lincoln Ave. in Sunnyside paced new construction in the city during the month of October.
The new construction is located behind the Community Dental Clinic at 1723 E. Lincoln Avenue. The project generated just under $7,300 in permit fees for Sunnyside city coffers.
Also permitted last month were two duplexes in the 500 block of Cemetery Road with a combined value of $470,000. They netted just over $5,000 in fees for Sunnyside.
Also in October, Western Warehousing received permits for a 6,000 square foot building at 2840 Lincoln Avenue valued at $262,000. The project resulted in $3,100 in permit fees to the city.
One of the few home starts permitted in October was a house in the 1300 block of Grandview Avenue valued at $283,000, resulting in $3,300 in permit fees.
Valuations for all but a handful of October construction starts were not maintained at Sunnyside City Hall. Even so, the big ticket items staff was able to identify puts building starts for the month at more than $1.5 million.
City code officials addressed 21 instances of graffiti in Sunnyside in October.
Also evident in October's building permit fees is a 20 percent decline over this time last year. In October 2006, Sunnyside city coffers received just over $73,000 in building permit fees, well more than the $55,000 received this past October.
Permits related to public works, for example, are down from $30,500 in October 2006 to $6,800 this past month.
Among the few bright spots are permit fees generated for additions or alterations to existing structures, as well as automatic fire sprinklers. There is also a slight uptick in permit fees for new commercial construction.
If current trends continue, the city will end 2007 with about $445,000 collected in permit fees. That's down about 15 percent from 2006's total of $515,000.
John Fannin/Daily Sun News
A dental clinic expansion valued at $750,000 led building starts for the city of Sunnyside during the month of October.