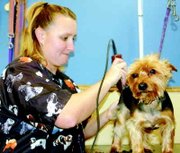 PROSSER - Do you have an inexplicable fondness for helpless canine critters? Do your friends tease you because you'd never turn your back on a stray, four-legged pooch?
If so, Prosser's Outwest Pet Rescue wants you to consider opening your home to foster dogs as they wait to find a good home.
Amber David, owner of Outwest Pet Grooming, said that the rescue operation began when she was actively searching for service dogs for the deaf.
"All of the sudden, people started bringing me all kinds of dogs," said David.
Outwest Pet Rescue is a non-profit organization that relies strictly on donations to care for abandoned dogs who are waiting to be adopted. David said attempts at advertising the organization have only ended in disaster. The last time she placed an ad seeking donations, she ended up with two bags of dog food and a ridiculous amount of dropped-off dogs.
But with the swelling operation, it's hard not to seek help.
After presenting to the Prosser Rotary Club, David was shocked to receive a huge donation of dog food from generous Rotarians.
Said Cindy Crawford, who works with David, "I went out (to the vehicle) and there was dog food everywhere, in the front seat, in the back seat, just every where."
It's a good thing, too. Said David, "We must go through 1,000 pounds of dog food a month."
Just last week, 30 puppies were dropped off at Outwest.
In the last two years, the organization has adopted out 2,600 dogs. And David recalls every single one of them.
"I remember every dog that comes through here. I can't remember who adopted them, but I remember the dogs."
When Snipes came in, he was in rough shape after a pack of coyotes got ahold of him. Outwest nursed him back to health and he found a happy home. Then there was Angel, the chihuahua that witnesses watched get thrown out of a car window in Whitstran. There's Gert, a gorgeous, underweight St. Bernard that just had 14 pups Oh, and there was Fred Astaire, an abused dog who was terrified of men. David's husband helped out with Fred, getting him accustomed to the fact that not all men are cruel.
But some are.
David's had people walk into her shop and tell her if she doesn't adopt a dog right then, it's going to get dumped out in the country somewhere. She's also been told, point blank, that if she doesn't accept a dog, it will be shot.
David just doesn't have the heart for that. But with the volume of abandoned and neglected dogs increasing, the pet rescue needs help.
The chief need is for foster homes. Dogs have been fostered for as little as a few days and as long as a few months. The current foster canine-parents that volunteer for Outwest are full.
Then there's a need, of course, for dog food.
Here's a breakdown of costs for a typical dog rescue:
- $10 for a puppy vaccination.
- $15 to treat kennel cough.
- $10 to get a dog de-wormed.
- $25 to groom the dog before it's adopted.
- $10 for flea and tick meds.
- $18 for a rabies vaccine.
- $50 to neuter.
- $70 to spay.
- $20 a week to board and keep.
- Donating an hour or two a week to walk boarded dogs at the shelter? Priceless.
All of this might lead one to wonder David's tricks in getting the dogs adopted. She employs the internet. And she and Crawford routinely trek to PetCo in Kennewick once every three weeks for the store's adopt-a-thon.
"Just (last) Saturday, we took 32 dogs with us and we adopted out probably 20. I haven't done a head count yet," she says, with a laugh.
How many hands would it take for David to finger-count the dogs living in her home, awaiting a family? About three.
David said that since Prosser doesn't have an animal control officer, it'd at least be nice if they'd let the rescue mission house dogs at the city's shelter.
Crawford said that when she started working at Outwest, she only had plans for pet grooming. "The running joke is I signed on to groom." Now, Crawford and David both provide foster homes to abandoned dogs.
Not only was David shocked last week by the generosity of the town's Rotarians, but Crawford received a big shock too.
The women had traveled to Petco for an adopt-a-thon and met a lady who was eyeing a rescued dog. The woman told Crawford and David that it looked exactly like her mom's dog, who was in the end stages of life. After initial hesitation, the woman adopted the dog for her mother, but Crawford provided her cell number should the woman have any misgivings.
Not too long after, Crawford received a phone call from the lady's father, none other than Dr. Marty Becker, author of the Chicken Soup series of animal books and the vet for Good Morning America. After hearing about the rescue, Becker offered to do a book signing at Outwest and is mulling being a spokesman for the outfit.
David said that one "huge" misconception people have is that Outwest Pet Rescue is a business that makes money. It's not, she said. In fact, it's a 501 (3) (c) and all donations are tax deductible.
The goal of foster homes is to teach a dog how to be part of a loving family "so that when they are adopted, love is all they want to give," said David.
Foster homes are welcome from throughout the Lower Valley, including Sunnyside, Grandview and Prosser.
And Outwest's goal is to find solid, loving homes for all the "underdogs."