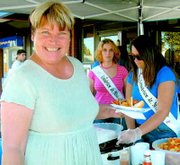 GRANDVIEW - Beth Bourgeois insists the honor of being named Grandview's Person of the Year for 2007 should have been given to someone else.
"It shocked me. I was like 'whoa'," said the Chamber of Commerce Director. "I just did the job I'm being paid to do and I felt there were many, many more worthy people than myself."
Bourgeois began working for the Grandview Chamber of Commerce a year ago. One nomination from a community member said Bourgeois came into Grandview with a bang and hasn't stopped since.
It's an accurate perception. "I think big," says Bourgeois.
With her "why not?" attitude, Bourgeois has incorporated two new events for Grandview, all the while organizing and sustaining the Chamber's other annual events.
One new event this year was bringing the Harlem Ambassadors basketball show to Grandview.
Another new, upcoming event is a three-concert series at the Country Park amphitheater for the summer of 2008, a project she's partnered with the Sunnyside Chamber to make happen.
For that event, she said she and Sunnyside Chamber Director Pam Turner have been working with a Seattle-area events and entertainment promoter to bring big name acts to the small town.
"We're still negotiating what three groups we'll bring in," said Bourgeois, adding that acts like Trick Pony and Pam Tillis are under consideration. "We have 15 groups that we're looking at," she said. But the goal is to bring in big names, she added.
Bourgeois's experience working with non-profit organizations goes back 25 years. She's worked for Habitat for Humanity, Prosser Memorial Hospital Foundation, Americorps and she oversaw the volunteer program in the Prosser School District.
One word to describe Bourgeois is persistent. "Almost too persistent at times...when people see me coming, they drop their heads because they know I'm going to make the ask."
With Bourgeois at the helm, the community has seen some changes to Chamber events.
This year's Cocoa and Carols, which heralds in the Christmas season, will take place at Stokely Square, thanks to a newly formed partnership between the Chamber and Grandview's Beautification Committee.
Last year's Chamber of Commerce auction marked the first year that a car had been donated. She's working on getting a vintage car for the 2008 auction.
She's also worked to move the auction from the National Guard armory to downtown Grandview at Le Paris, a rental hall. This will allow for wine to be served, a first for the auction.
Bourgeois lived in Prosser for many years before moving to Grandview. She said when she looks at downtown Grandview, it's similar to how Prosser was 12 years ago, an unsteady economy with highs and lows.
She has every expectation that Grandview is headed for the same destiny as Prosser, a popular tourism destination with a flourishing downtown area.
"We're going to be an amazing little town in five years," Bourgeois predicts. "When you walk downtown, it won't look the same."