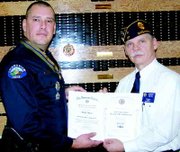 GRANDVIEW - Grandview Police Officer Scott Ames received two prestigious awards from Grandview's American Legion Fred E. Hayes Post 57 on Nov. 11 during a Veteran's Day banquet.
For his distinguished service to the Grandview community since 2005, Ames received the post's American Legion Law Enforcement Officer of the Year award.
Ames is also credited with pulling an elderly male with a medical condition from a burning vehicle in May of 2007. For that heroic act, he was given the American Legion Heroism Gold Medal.
"His actions represent the highest calling of service to our community," said Robert Gates, Post Commander. "His department, fellow officers and community need to be very proud of him and it is our distinct honor to recognize him."
Bestowing the award is one way to recognize and promote Americanism, said Gates.