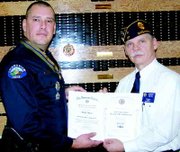 Frances May (Price) Stephens, 76, of Spokane died Monday, Nov. 12, 2007, at Sacred Heart Medical Center.
She was born Nov. 14, 1930 in Sunnyside. Her early school years were fond memories of Bickleton and its schoolhouse with a nearby barn for the students' horses.
She was a proud member of Sunnyside High School class of 1949. As a teenager, she worked as an usherette and cashier at the Sunnyside Liberty Theater, which fostered a lifetime love of old movies. While working as a quality control lab assistant at the Safeway Fruit Processing Plant in Grandview, she was mentored and passed the state licensing exam for microbiologists.
She worked as a laboratory microbiologist for Arden Farms Dairy in Moses Lake, Early Dawn Dairy in Spokane and Revlon Cosmetics in Phoenix, Ariz. Her working career ended prematurely following an auto accident in which she was a pedestrian victim.
She is survived by her three sons, Leslie Stephens and wife, Carolyn, and Oren Stephens, all of Spokane, and Timothy Stephens of Forest Grove, Ore.; three sisters, Peggy Yearout of Yakima, Winifred Price of Seattle and Carol Retzer of Lynnwood; one stepsister, Lois Schafer and husband, Ben, of Colorado Springs, Colo.; and numerous nieces and nephews.
She was preceded in death by her parents, Rueben G. Price and Lily (Cromar) Price Dixon; her stepfather, Ray Dixon; two stepbrothers, George and Donald Dixon; and her infant daughter, Karen Stephens.
Although she had no grandchildren of her own, many children of her extended family and friends knew her as "Granny Franny".
The family would like to thank the staffs at Manor Care Convalescent and Rehabilitation and Sacred Heart Medical Center for the excellent care and support.
At her request, no services will be held.
Memorials may be made to the American Lung Association or Hospice.
Hennessy-Smith Funeral Home of Spokane is in charge of arrangements.