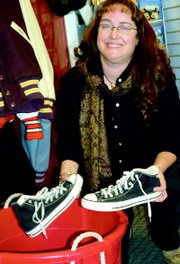 Sonya Anderson's mission is saving soles this holiday season.
Store manager for Taylor'd Footwear in Sunnyside, Anderson is joining forces with the charity Soles4Souls to gather new or "gently used" shoes for those without.
"They distributed 50,000 pairs of shoes to victims of the fire in Southern California," Anderson said of the charity's most recent work.
Anderson has been with the Sunnyside store for more than 10 years. Soles4Souls, based in Tennessee, caught Anderson's attention recently in a national footwear trade magazine.
"We take shoes for granted, but there are some people who have never had them," she observes.
Taylor'd Footwear is at 2810 E. Lincoln Ave., next to Subway, and will be collecting shoes and sandals in good condition until the end of the year.
Anderson said each customer donating a pair of shoes-adult and children's sizes are welcome-will receive a coupon good for a 10 percent discount on a shoe purchase at the store.
"People usually have an extra pair of shoes sitting in the closet that don't fit or that they hardly wear," Anderson notes. "Why not give them to someone who can use them?"
Soles4Souls began in response to the 2004 tsunami in Southeast Asia and the next year donated 750,000 pairs of shoes to the gulf communities hit by Hurricane Katrina. Its stated aim is to "change the world one pair at a time."
Anderson hopes to help that aim with a record-setting sole search in Sunnyside.
"The collection record for one store is 5,000 pair of shoes," she smiles. "I'd like to top that and see if the Lower Valley has the big heart."