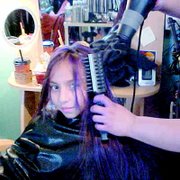 Sunnyside Gang Resistance And Education Training Police Officer Melissa Rodriguez takes her job to heart, even if it means digging into her own pockets to show three little girls how fun it is to be pampered.
Rodriguez met the three girls, ages 11, 10, and 9 while working overtime security at a carnival in Sunnyside.
"They saw me and stayed with me all evening," said Rodriguez. She said what struck her about the girls is they make themselves happy through their relationship with each other. "They made a bond of backing each other up," she said.
Since she's gotten to know them, she says, "I call them the entourage. They're stuck together like little glue."
None of the three girls come from homes with money for things like, oh, a trip to the beauty parlor.
Rodriguez took it upon herself to treat the three to a makeover from Jems.
First, Rodriguez called the Jems owner to make arrangements, but she also asked if the hairdressers, Sunnyside locals, could discuss with the girls their success stories.
Rodriguez said she wanted the girls to know that if they stay in school, their future would be bright.
Rodriguez has been working in the school district since this past fall teaching gang resistance education, but also simple education, like saying no to drugs and violence, while emphasizing the importance of goal setting.
She said getting to know students has been a good experience for both law enforcement and the kids. "I like it because we're not the enemy, we're just people. We're still an authority figure, but we're human, parents and people too."
She's a firm believer in making learning fun for the students, like with the girls.
If it's not something like a makeover to encourage kids along, it's role playing in the classroom with different risky scenarios, which can be entertaining to watch, she said.
"If they laugh about it, they'll remember it," said Rodriguez.
More like this story