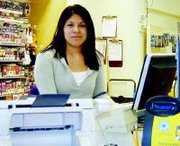 What was once a bit worn has been transformed into something clean and warm feeling.
The remodel of Sunnyside's AM/PM on Waneta Road is now complete.
Inside the convenience store it's now much more spacious.
The former gas pumps were also showing age. They were cumbersome and often one would drive up to a pump only to find it wasn't working. Another issue customers had, according to store manager Alicia Aguilar, was the older pumps did not serve all types of fuel.
"Customers used to have to fuel up at a specific pump for diesel," she stated.
The new gas pumps serve all three types of unleaded gasoline and diesel. "They also accept debit cards now and the 'pick machines' are for cash only," said Aguilar. She added that credit cards will also soon be accepted.
Of the store's interior, she said it feels much more spacious even though the same space was utilized as before. She stated that she is especially impressed with the coffee counter, salad selections, the bakery and the condiment bar. "We didn't have a bakery or a condiment bar before," said Aguilar.
She added that the customers who frequent the convenience store also seem to be impressed with the transformation. "They say it feels much bigger and inviting," she stated.
Aguilar noted that the employees also like the fact that the store requires less maintenance. "They really like it...especially because the registers aren't as crowded," said Aguilar.
The store was closed for one month. Aguilar said it was slated to be reopened on Nov. 7, however it was opened on the evening of Nov. 15 "...exactly one month from when we closed."
She said the wait was worthwhile. "It is so much nicer."