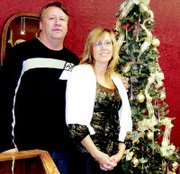 Longtime jeweler Dale Beck was in the midst of having his Sunnyside store's roof replaced when he decided it was time for a change within the confines of his business.
"After 20 years, it was just really badly needed," said Beck's wife Jennie.
Jennie said Dale wanted to give the store new appeal with mauve, navy and burgundy colors. "He wanted it to be brighter, too," she said.
The couple added dropped halogen lighting to the store, brightening it up considerably. They painted the walls burgundy and changed the flooring to a navy and mauve colored carpet that your feet sink into due to new padding.
Dale said of the remodel, "We've seen a lot of other Lower Yakima Valley towns are working on revitalization efforts and felt Sunnyside deserves a good shopping experience, too."
He said he has a lot of loyal customers at his store, and wants to provide them with a quality shopping experience.
Dale custom designs jewelry and each piece is one-of-a-kind. Therefore, the Becks felt the store needed to reflect the quality of the work provided.
"There is a one-of-a-kind paint design in gold leaf along the front wall in the store. We don't have anything like it at our Prosser store," said Jennie.
As to the customers' responses, the Becks stated they have enjoyed the changes. Jennie laughed as she told of one customer's suggestion to add the Washington State University logo "...because of the color."
The Becks began the store's makeover in September. They are especially pleased it was completed in time for the holiday shopping season.
"Our customers don't have to travel far for the holidays, and that's what is most important," said Dale.