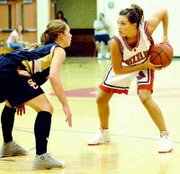 The Sunnyside High School girls basketball team kicked off its 2007-08 Columbia Basin League season at home last night with a jamboree that pitted the Lady Grizzlies against the Prosser Mustangs and the Sunnyside Christian Knights.
Each team fielded two squads, an A and a B, that played two five-minute quarters each. The B squad, comprised mostly of junior varsity players, started each game.
Against the Mustangs, Sunnyside jumped to an early lead but came up short defending Prosser's comeback and the Lady Grizzlies dropped their first game 29-28.
Sunnyside Coach Eric Berg credited his team's hustle and defensive efforts for the quick start.
"The girls came out fired up," he said. "They were tired of playing each other. All I asked from them is to give me all they had for as long as they could, they did that."
After posting a 9-2 lead after one quarter, Sunnyside extended that lead to 17-7 at halftime.
"Our offensive sets were really working," Berg added. "The enthusiasm and energy were really high."
When the A squad took over in the second half the varsity players kept up the intensity on defense but missed a couple of easy lay-ups and Berg said his team didn't execute as well as they could have.
"The ball didn't fall our way," he explained.
In the fourth quarter, Prosser outscored the Grizzlies 15-7 when the Mustangs' point guard was able to finally penetrate Sunnyside's defense. Prosser was able to hit some big shots and got the game winner with about seven seconds left on the clock.
Samantha Wright led the Grizzlies with six points. Teammates Toni Castillo, Kayla Rollinger and Zenaida Perales each added four points.
Against the Lady Knights in the nightcap Sunnyside won 20-19, again getting a strong defensive effort.
Sunnyside's B squad was pumped to get back into the game, Berg said, and the Grizzlies were able to run on SCHS. After taking an 8-6 first quarter lead, the Lady Knights rallied to tie the Grizzlies 10-10 at halftime.
"The energy from our B squad really fueled our A squad," Berg said.
In the third quarter Sunnyside's guards were able to penetrate the Knights' defense. With the Grizzlies' offense hitting its shots and the defense continuing to play well, Sunnyside extended its lead to 17-14 after three quarters.
Sunnyside was outscored 5-3 in the final quarter but held on for the one-point win.
Berg said his team again missed some easy lay-ups in that quarter and needs to do a better job of securing defensive rebounds.
"The girls gutted it out and won, though," he said. "That's what we need."
Destiny Maya and Alexis Ramos each had six points in the Grizzlies' win.
"It's early in the season," Berg said. "I was extremely proud of the effort and energy they displayed. I was really pleased to see that. There is always room for improvement but I was extremely pleased and proud of the girls."
Sunnyside will begin its non-league schedule this Friday, Nov. 30, with a 7:30 p.m. home game against Moses Lake.