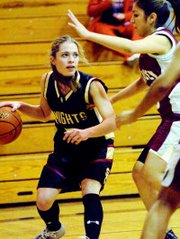 The 2007-08 prep basketball season is underway, and not surprisingly the Lady Knights represented Sunnyside Christian High School well at last night's jamboree at Sunnyside High School.
Second place finishers at last season's 1B State basketball tournament, the Lady Knights scored a 24-20 victory against 2A Grandview last night before getting edged 20-19 by 3A Sunnyside.
Monday evening's jamboree games called for each team's JV units to play the opening two five-minute quarters, with the varsity squads taking the court for the final two five-minute periods.
Sophomore Ashley Haak and freshman Rene Visser pumped in a combined 11 points to give the Lady Knights JV a 15-2 lead over Grandview in last night's opener for Sunnyside Christian. The Lady Greyhound varsity, behind Anna George's five points, fought back to outscore Sunnyside Christian's varsity by an 18-9 margin, but it wasn't enough to overcome the 13-point lead the JV Lady Knights established in their half of the game.
SCHS Coach Al Smeenk said on the varsity side, his Lady Knights had difficulty in getting the ball to drop through the hoop.
"We struggled offensively," Smeenk said. "It was our most glaring weakness."
Smeenk noted that only four varsity players scored against Grandview...three of them with just two points and the other, senior Andrea Schutt, with three points.
In the game against the Sunnyside Lady Grizzlies, Smeenk's JV squad fought to a 10-10 first half stand-off. Sophomore Kelly Newhouse had a team high four points for the JV Lady Knights in the opening half, with Haak and freshman Janelle DeGroot chipping in three points apiece.
Sunnyside's varsity pulled away from the veteran Lady Knights after intermission, outscoring Sunnyside Christian 10-9 to eke out the one-point victory.
"We had our chances at the end," Smeenk said, explaining his club snared three or four offensive rebounds just before the buzzer sounded, but failed in getting any of the put-backs to fall.
Schutt, who will share the duties of playing post with junior Melanie Van Wingerden this season, was again the high scorer for the varsity Lady Knights, knocking down six points in the second half.
One aspect of last night's performance that concerns Smeenk is free throw shooting. His club hit only 1-of-10 shots from the charity stripe in the two games.
"We had good form from the line. We'll just have to keep working on it," he said.
"The nice thing about season opening jamborees is that we get to take a look at where we need to improve.
"Offensively, I was a little disappointed. I also saw that we need to rebound better. We got pressed at times in both games, and we didn't always handle it well.
"But they're things we can work on, and we will.
"Overall, it's great to have the season underway," Smeenk said.
The Lady Knights will play their first regulation-length game of the season this coming Friday at home against Liberty Christian. The JV game is scheduled to start at 3 p.m., with the varsity to take the floor at 6 p.m.