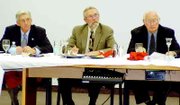 Sunnyside Schools Superintendent Dr. Rick Cole told state legislators last night that 25 percent of his district's 2008 senior class will not graduate because of struggles with the WASL.
Cole's comments came during a dinner meeting hosted by Sunnyside that brought together all three local state legislators and school district officials up and down the Yakima Valley.
It was a final confab to promote educational priorities before legislators ship off to Olympia this winter.
The crux of the matter is upholding state graduation standards, yet allowing local school districts authority to recognize student achievement outside of the WASL exam.
Cole said what troubles him is there will be students next spring with grade point averages above 3.0, who have done well in high school, but will not graduate because of the WASL.
"Are we prepared to let some number of kids not get a diploma?" he asked legislators, noting that if the school district labels them as failures then they "will live up to our expectations."
State Representative Bruce Chandler of Granger said the trouble on the west side of the state is that parents in the Mercer Island School District, for example, are telling educators there that they need to get their kids in to Harvard. Over here, by contrast, Chandler said "we're just trying to graduate our kids."
As a result, he said pressures from districts like Mercer Island are driving increased graduation requirements and tests like the WASL.
An administrator from Toppenish replied that students, like those in Mercer Island, could receive a gold emblem on their diploma to indicate WASL excellence above and beyond high school academics, "but let's not hold other kids hostage."
The irony, some educators noted last night, is that Washington state high school students are fifth in the country when it comes to passing the SAT. Further, neighboring states like Idaho require standardized tests that are not as difficult as the WASL.
In addition, educators said colleges don't look at WASL scores to determine admission standards, but a student's academic performance in the classroom.
State Representative Dan Newhouse of Sunnyside expressed appreciation for the comments and concerns. Since he does not serve on an educational committee in Olympia, he said meetings like the one last night help inform his decision-making process once he gets to the capital.
After Sunnyside School Board member Rocky Simmons told legislators of students afraid to try to go to YVCC or CBC because of testing requirements, State Senator Jim Honeyford of Sunnyside expressed concern for students falling through the cracks because of the WASL.
"It bothers me tremendously that we have young adults who don't have skills to make a living," Honeyford said.
Cole concluded the discussion by pleading with legislators to allow high schools at their discretion to bestow diplomas on students who do not pass the WASL but meet every other requirement.
Cole conceded that the diploma would not bear the mark of academic achievement indicating success on the WASL, but it would still be a way to recognize student effort.
When the legislature convenes in January, Cole said school administrators will press for local authority in determining when the WASL standards need to be met at the local level.
In other discussion last night, school officials listed legislative priorities that included a better funding process for school construction and more resources for students who are in poverty or are learning the English language.