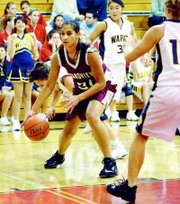 First-year Grandview High School girls basketball coach Paul Van Pelt learned two things about his squad following two losses at the Sunnyside High School jamboree last night.
One is that the 2A Lady Greyhounds need work handling the ball in the face of a pressure defense. The other is that his front five should give CWAC foes fits this winter.
In the jamboree format, Grandview had an A and a B squad that each played 10-minute halves against two opponents.
In game one against Wapato, the Lady Greyhound B squad made up of a mix of varsity and junior varsity players trailed 18-11 after one half. The A squad of Grandview's top varsity players outscored Wapato 12-11 in the second half as the girls lost 29-23 to the Wolves.
"Our B squad had trouble handling the pressure," said Van Pelt. "And we were getting beat on defense."
Grandview's second half rally was keyed by the inside-outside duo of post player Kinzi Poteet and freshman shooting guard Jessica Lopez, who knocked down a team-high seven points. Poteet tallied two points and collected a team-high five rebounds.
The Lady Greyhounds got it to a 21-21 tie at one point, but Wapato had just enough to pull out the win. "We made some bad passes, some first game jitters," Van Pelt said of Grandview's late game swoon against Wapato.
In game two, the Grandview B squad found even more trouble against Sunnyside Christian, 1B State runner-ups from a year ago.
The Lady Greyhounds second squad trailed 15-2 at the half, as the pesky Lady Knight defense made it difficult to get past mid-court.
Again, the Grandview A squad rallied, this time outscoring Sunnyside Christian 18-9 in the second half.
"We pounded it in," said Van Pelt. "Then we kicked it out for some open three-pointers and they finally started going in."
Lopez knocked down one of the treys on the way to 10 points. Anna George and Jessica Gonzalez scored five and four points, respectively, for the Lady Greyhounds.
Van Pelt observed that his B team had speed, but is still in the learning stages. "They'll come in and contribute," he said, looking ahead to the season.
Van Pelt said he was pleased with his team's play on defense in pressuring other teams. "We went full court and created some havoc," he noted. "That's what I wanted."
The coach noted that he wasn't surprised by the freshman Lopez's outburst on offense, noting that on any given night all of his perimeter players are capable of scoring. "All together, we will be very tough in league," he said.
Grandview plays its first actual regulation-length game this Saturday at 1A Kiona-Benton.