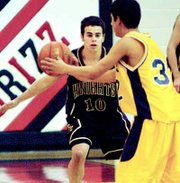 Despite an obvious disparity in depth playing against the likes of 2A Wapato and 3A Sunnyside, the 1B Sunnyside Christian High School boys basketball varsity showed plenty of grit last night.
The season-opening action for the Knights came during a jamboree of two-mini games that saw the SCHS JV play the first half and the varsity play the second.
Nine of Sunnyside Christian's 19 players in the hoops program are freshmen. The inexperience showed as the JV team trailed Wapato 27-15 after one half.
Jesse Brouwer, one of the Knights' two returning starters from last season's State title run, capped a 21-9 second half varsity rally by knocking down a three-pointer at the buzzer to secure a 36-36 tie with Wapato. There are no overtime periods in jamboree contests.
"We got the rebound and called timeout," Sunnyside Christian Coach Dean Wagenaar said of the last second bucket. "We had great rotation and Jesse drilled the three."
The Knights other returning starter, Joel Koopmans, led the varsity squad with six points, followed by Brouwer and Jason Friend with five points each.
Wagenaar said the key to the rally was the varsity's ability to play what he called "excellent" man-to-man defense and shooting the ball well.
In the game against Sunnyside, the Knight JV squad again experienced a slow start, trailing the Grizzlies 27-8 at the half.
"We just struggled in handling their pressure," Wagenaar said of the first half.
Sunnyside Christian's varsity again came to the fore in the second half, outscoring Sunnyside 13-5 for a 32-21 loss.
Koopmans and Marc De Jong accounted for all of the Knights' varsity scoring with nine and four points, respectively.
Wagenaar said his varsity squad did a good job of taking care of the basketball against Sunnyside, giving up just one turnover in the 10-minute mini half.
"We have two players (Koopmans and Brouwer) coming back and I wanted to see if the other young men could play fundamentally sound basketball. For the most part they did and that's what I was expecting," Wagenaar said.
As for the youthful JV squad, Wagenaar feels experience like last night's jamboree will be helpful in progressing. "I suspect we'll spend a lot of time in practice on breaking presses and owning the ball (ball control)," Wagenaar said.
Sunnyside Christian's first regulation-length contest is a non-league home game this Friday against Liberty Christian, which earned the third place trophy at State last season.