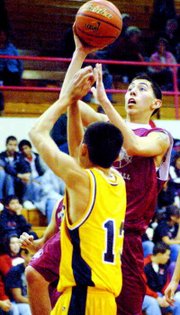 Coming off an eighth place finish at the 2A State Basketball Tournament last season, the Grandview Greyhounds opened the 2007-08 year last night at the Sunnyside basketball jamboree by beating Wapato and then the host Grizzlies.
Grandview Coach Scott Parrish said he saw some things last night from his team that pleased him at times but noticed his defense has some work to do.
The Greyhounds B squad started the first half in both games and against Wapato was able to stay close, trailing by two points, 14-12, at halftime.
"I was impressed with the way they moved the ball offensively," Parrish said of his junior varsity squad. "Defensively we got confused a little bit. Wapato did a good job of cutting to the basket and we didn't defend well against that."
Parrish pointed out the play of Greyhound Jaime Sanchez in the first half, noting he did a nice job pulling down rebounds.
Grandview's A squad came in to start the second half and didn't waste any time in establishing control of the game.
"Offensively we did a nice job," Parrish said. "We were setting screens and getting guys open."
On the defensive side, Parrish said his team is going to have to do a better job containing the ball. He noted Wapato was able to kick the ball out to its outside shooters and drain a couple of threes.
Rodrigo Fajardo led the Greyhounds with 14 points. Marty Guillen had eight points for the Greyhounds and Chris Hernandez added six points in the 41-33 win.
The Greyhounds were able to hold on in its second game, beating host Sunnyside 29-28.
Grandview's JV squad played well against the Grizzlies and Parrish said he was happy with how his team was able to get the ball inside.
"They did a good job of rebounding," he noted.
In the second quarter, Grandview committed a few turnovers and Sunnyside was able to score on transitions. The Grizzlies knocked down a three-point shot just before the second quarter ended to trail the Greyhounds 16-15.
"We must do a better job of taking care of the ball," Parrish added.
Grandview's varsity squad was able to fight to a 13-13 draw with Sunnyside in the second half.
The Grizzlies played well on defense and Parrish said his team missed some shots, especially some easy lay-ups.
"Defensively we got lost a few times," he said. "We need to work on our transition. It's something we'll have to improve on."
Guillen led the Greyhounds with eight points. Jacob Massey had six points, Derek Newhouse finished with four points, Matt Concienne had three points and Joseph Babcock had two points for the Greyhounds.
"We have a long ways to go," Parrish said of his team. "We're going to have to improve in some things. Our league is going to be tough this year but we'll do the best we can."
Grandview will travel to Benton City this Saturday, Dec. 1, for a 6 p.m. game with the Ki-Be Bears.
&nbsp