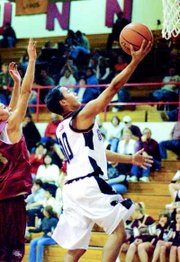 The Sunnyside High School boys basketball team started its season last night by hosting a basketball jamboree.
Grizzly Coach Ron Rowe said his team had some good moments of basketball last night and were able to move the ball around well at times.
"Our rebounding was strong at times," he said. "Overall, it was just a good opportunity to play against somebody else."
The somebody else in this case was Grandview High School and Sunnyside Christian High School. The Grizzlies lost a nail biter to the Greyhounds 29-28 but overcame SCHS in the second game 33-21.
Sunnyside's B squad started the first two five-minute periods in the game against Grandview, falling behind 8-4 after one quarter but closing out the half trailing by just one point, 16-15.
"We were getting some good looks," Rowe said of his team's play in the first quarter. "Some of our shots were just a little bit off."
Rowe chalked it up to first game jitters but said his defense played well overall.
In the second quarter Sunnyside was able to hit some of those shots that weren't falling in the first quarter and outscored the Greyhounds 11-8.
The A squad came out in the second half and Rowe said again his team had a number of good looks at the basket.
"We just didn't finish, but I was happy we were getting those good looks," he added.
Down 23-20 to start the fourth quarter, Sunnyside forced a few turnovers in the final stanza to put together a late run. Rowe said the Grizzlies had possession of the ball with Sunnyside down 29-28.
"We had some good looks but the ball just didn't go in," Rowe explained.
Grandview got the rebound and was able to run the clock out.
Jordan Esqueda led all Grizzly scorers with five points. Teammates Billy Davila, Damian Ramos, D.J. Palomarez and Pedro Vargas each had three points.
Sunnyside was able to bounce back from the Grandview loss to beat the Knights by 12 points.
The JV Grizzlies jumped to an 8-2 lead over SCHS in the first quarter and then opened it up with a big run in the second to go up 27-8 at halftime.
"We were able to pressure them," Rowe said. "We forced them into some bad passes we were able to steal and got some easy fastbreaks on that."
When the A squad took the court for Sunnyside some of that momentum vanished. The Knights were able to outscore the Grizzlies 7-1 in the third quarter.
"They did okay," Rowe said of his varsity unit. "We didn't finish on some shots. We weren't able to generate much offense and our defense didn't start out very active but they finished well."
Esqueda and Alex Herrera finished with seven points for the Grizzlies, Davila added six points and Chance Graff knocked down four points for Sunnyside.
Joel Koopsman led the Knights with nine points and teammate Kevin De Jong added six points.
"Overall we showed some good things," Rowe said of his team's performance last night. "We have a lot to work on both offensively and defensively."
He added last night's jamboree was able to show where Sunnyside is at as a team at this point in time.
The Grizzlies will travel to Moses Lake this Friday, Nov. 30, for a 7:30 p.m. game with the Chiefs.