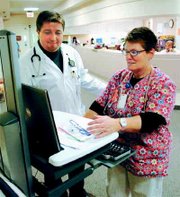 Computerized medical records are improving patient safety and giving doctors and nurses more time to care for their patients.
That's the goal behind the move to computerize medical records throughout the country. For the past year, Sunnyside Community Hospital and its clinics have changed paperwork to computer work. The hospital and clinics have adopted a patient care electronic documentation program that is linked to a massive computer system called Meditech.
Meditech gives the patient care staff and physicians the clinical tools needed to manage the delivery of patient care electronically. It started in the Emergency Department and Family Birth Center nearly a year ago, and is now in place throughout the hospital and five of the six hospital clinics.
"Having a 100 percent electronic medical record system is a goal of Sunnyside Community Hospital and other health care facilities across the nation," said Tina Glockner, R.N.
Glockner is an ICU nurse who is teaching the medical records system to other nurses in the hospital. "The process of implementing the system to paperless is long and must be done carefully," Glockner said.
"For our system, it started in the hospital clinics (Birch Street Medical Center, Lincoln Avenue Family Medicine, Grandview Medical Center and Valley Internal Medicine) more than a year ago. After that it began in the Emergency Department and Family Birth Center at the hospital."
Glockner said phasing in the process throughout the hospital and clinics has allowed for everyone to get used to the changes. For some people they have been big changes, according to Glockner, who noted that many of the newer physicians who have been recruited to the Valley were strong advocates to an electronic medical records system.
"They know that in the long run it will help improve our patient care, and eventually make everyone's job a little easier," Glockner believes.
The hospital has five medical units. After things began to run smoothly in the Emergency Department and Family Birth Center, the new system was introduced in June to the Medical Surgical Department, Surgical Services and the Intensive Care Unit. That introduction took two steps that were completed in October.
"We now can gather the patient history, admission information and head-to-toe assessments on the computer," said Glockner.
Sunnyside Pediatrics, an outpatient clinic specializing in care of children up to age 18, will convert to the electronic system early next year.
"Computerized charting will eventually save time as providers become more familiar with the process. It may not save the hospital money, but it will help ensure patient safety and continuity of care by having past and current medical information readily available. While the hospital still has a ways to go to become "paperless", we are well on our way," Glockner said.