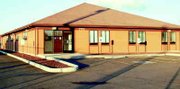 The towering brick post office building has been a downtown Sunnyside landmark since 1936, according to a faded granite slab on its cornerstone.
That 70-plus year history is on the way out, if regional post office officials have their say.
USPS spokesperson Ernie Swanson said a proposal on the table now would sell the current post office building at 713 Edison Avenue and move the postal service a few blocks to 770 Custer Avenue. That's where the post office has an annex for its Sunnyside mail carriers.
Swanson said the annex, located between Denny Blaine Park and the Sunnyside School District's Denny Blaine building, was set up about 15 years ago with a view toward expansion.
The building sits back off of Custer with an extensive street front property that is now landscaped.
Swanson said the changeover would require a remodel of the annex building to accommodate a public entryway and post office boxes.
The landscaping in front, he said, would give way to off-street parking and a drive-through mail drop-off box.
Swanson said parking was not the overriding factor, even though what little off-street parking the existing post office has will be lost when the Sunnyside Fire Hall expands.
Sunnyside Postmaster Lewis Gress confirmed plans to move the post office, noting that parking issues with the city of Sunnyside on Edison Avenue were not a factor in the decision.
The move, Gress and Swanson say, is ultimately a consideration of work flow and finance.
"In my opinion it will provide better access for customers," Gress says of the move to Custer. "It's a less busy road."
Though the post office says the parking tiff with the city of Sunnyside is not the cause for the move, Gress admitted there would be improved parking-especially off-street access-at the proposed site.
Swanson said if regional USPS officials in Denver, Colo., as expected, approve the move, it will allow the postal service to sell the Edison Avenue building and house Sunnyside postal carriers and front counter employees in the same building.
The project could be on a quick timeline, as Swanson said the plan would be to remodel the Custer site and move postal services by September 2008.
If, or when, the post office moves, Gress said postal service for box holders and mail delivery would not be interrupted.
"There would be no customer interruption," Gress said. "There would be as little impact as possible."