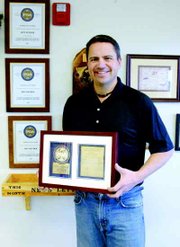 Jeff Bender, the golf pro at Black Rock Creek Golf Course between Sunnyside and Grandview, has been recognized the last three years as a junior golf leader in the PGA's Central Washington chapter.
Earlier this month Bender was recognized by the entire Pacific Northwest section of the PGA, and given the Junior Golf Leader Award.
Bender outstanding contributions in the promotion and development of junior golf and for reflecting the ideals of those who work with youth.
How has all this recognition affected Bender?
"I have to do more now," he said. "My first thought when receiving the award was I have a lot of work to do in 2008. I thought, how am I going to honor this award."
Bender suspects he was nominated by his peers for the award because of his involvement with AAU golf.
Before this year, the only golf tournaments available for valley youth were through the Washington Junior Golf Association. Bender explained these tournaments were held during the week, requiring parents to take time off from work, drive to where ever the tournaments were being held and then pay a hefty tournament fee.
Bender said in the Yakima Valley, where the average median income is $50,000 or lower, that's just not an option for most people.
It was Bender's son who first broached the subject of AAU golf, something Bender didn't think existed. When the AAU Director for the Inland Empire, Paul Campbell, was at Black Rock Creek one day, Bender asked him about it.
He was told there is such a thing as AAU golf and it's very popular on the east coast. There was AAU golf here in the valley back in the early 90s but it had drifted away.
So Bender brought it back.
"I asked myself what I could create to give kids tournament experience and not make it too expensive for the parents," Bender recalled.
Without any advertising Bender said 100 kids from Yakima to the Tri-Cities, with a few from the Bellevue and Spokane areas, signed up. Bender organized 15 tournaments last summer and they were played at three locations, Suntides in Naches, Columbia Point in Richland and Black Rock Creek.
He even tweaked the rules a bit to make the events more parent friendly. Unlike the Washington Junior Golf Association, AAU golf allows for the golfers to have caddies, something usually done by the parents. Parents can also rent golf carts, something that's also not allowed by the Washington Junior Golf Association.
There are five age groups that compete in AAU golf and the top three in each group receive medals after the tournaments. The youngest who competed this past summer was five-years-old and the oldest was 19-years-old. That's also something different about AAU golf. Once a youth hits 18-years-old, they no longer can play in Washington Junior Golf Association events. In AAU, they can play until they're 19.
For 2008, Bender is expanding AAU golf to include the entire state of Washington and parts of Oregon. He said Sunnyside will remain the hub for the league and host a championship event for the Northwest section. Winners and runner-ups from this tournament will then be eligible for the AAU Olympics held in Reno, Nev.
"The biggest honor is people recognized the fact it's not a waste of time to be dynamic," Bender added. "You can try stuff and if it fails, don't give up. Try to stay dynamic."