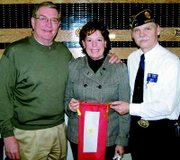 GRANDVIEW - L.J. and Ginger Emerson were presented with a Gold Star Banner at an American Legion Veteran's Day dinner in Grandview on Nov. 11.
The Emersons lost their son, Corporal Matt Emerson, in Iraq earlier this fall.
The Gold Star Banner is presented to families who've lost a loved one in service to the country during war time.
The American Legion initiated the Blue Star Banner program in the early 20th century to recognize families with loved ones serving in the military. This banner, featuring a blue star, is hung in the window of the family home. When a family member is lost, a gold star takes its place.
Emerson, who served in the U.S. Army, died in a vehicle accident while on patrol in Iraq. He was a graduate of Grandview High School.
The banner was presented on behalf of the membership of the Fred E. Hayes American Legion Post in Grandview.
"We grieve the loss of a fellow comrade," said Post Commander Robert Gates. "But we stop to honor his service and his family by presenting this banner."
Gates also presented the family with Gold Star lapel pins and a special hand-made Gold Star Mother's pin that was presented to Gold Star mothers during the recent Time of Remembrance in the Tri-Cities.
Each Memorial Day, the names of Gold Star mothers are read during ceremonies at the Grandview cemetery. This list has always ended with Mrs. Blanche Charvet, whose Navy pilot son went missing in the Vietnam war. Ginger Emerson will now join that honor roll.