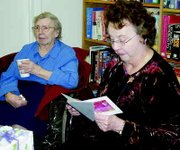 GRANDVIEW - After 17 years at the Bleyhl Community Library, Carole Lange has made her last phone calls to remind patrons to return books.
Lange began her career as a technician in 1984 at the Sunnyside Library. She worked part-time at that library and the library in Grandview until December 1990, when she was hired full-time at Bleyhl Community Library.
"I am not a librarian because I don't have a degree in library science...I didn't go to college for that," Lange said.
Her continued service at the library throughout her nearly 23-year career won't go unnoticed, however.
Grandview City Council member Pam Horner said she will miss Lange. "She was the friendly voice on my answering machine, reminding me to return my books," Horner said. "Her voice will be missed."
Laughing, Lange stated, "Some customers were happy to receive my call...others were insistent they had already returned the books. But, I would find them in the book drop the next day."
Calling customers to remind them their books were overdue was not the only thing Lange did for the library. She began working when computers were beginning to be utilized and had to learn how to enter data into the machines.
Lange also repaired books, placed slipcovers on them and could be seen checking books in and out of the library.
She said, "There was always something to do. It has been a good place to work, a good community to work in and I have really enjoyed it."
Lange won't be staying home much in her retirement. She volunteers with the Yakima Valley Geneological Society and plans to keep busy with the group.
She said there are a lot of people of the older generation who are not going to be alive forever, and she wants to help the society obtain as much information as possible.
"I will get to see many of my library customers when I go to the grocery store or when I am checking out a book," Lange noted.
Of the party held in Lange's honor Wednesday, she said she was pleased to see all the familiar faces wishing her well.