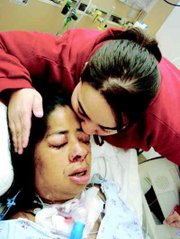 One day she is a mom of three, living her life to support her children...the next day she finds herself struggling to survive.
This is the case for former Lower Yakima Valley resident Michele Vargas, single mother to middle schoolers Jessica and Isai, and 17-year-old Shakell.
Vargas was diagnosed with kidney problems approximately 10 years ago, when her children were young. As a result, she moved to Pasco so she could undergo dialysis.
Having felt much better in recent years, Vargas was surprised when she found herself suffering severe stomach cramps.
Not knowing the cause of her illness, her oldest child made the decision to take her to Kennewick General Hospital. The doctors did not give her much hope for survival and intubated her before airlifting her to University of Washington Medical Center.
"It was that bad," said Vargas's cousin, Maria Ornelas.
Ornelas said Vargas is still in Seattle. Doctors there have helped her stabilize from the renal failure that had caused her illness.
"Shakell is staying with Michele and he is looking to rent an apartment since the doctors don't have a time for her to come home," said Ornelas.
She said it the road to recovery is expected to be a long one.
"We are concerned for her, but we are more concerned about the kids...with Christmas coming up, what kind of Christmas will they have?" Ornelas pondered.
She said there is still a mortgage to pay, utility bills and three children to support. "We just want Michele and the children to be taken care of and we are doing all we can to provide them help," she stated.
In the meantime, Michele continues to be intubated and the illness has placed a roadblock in her life.
"She was always doing stuff to take care of the kids. She volunteered for the school district and supported the kids' activities," Ornelas cried.
Now, Ornelas and the rest of the Vargas family is seeking support from the community. "We are hoping community members will help us give the kids a good Christmas," she said.
Those wishing to help the Vargas family can contact Ornelas at 830-6653.