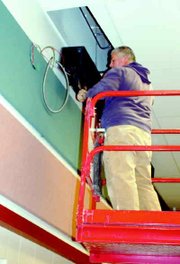 OUTLOOK - Pictures and newspaper clippings are about the only reminders left of a fire that devastated Outlook Elementary School on Dec. 17, 2006.
With the first anniversary of the blaze fast approaching, workers have nearly finished a complete makeover of the cafeteria where the flames originated.
Outlook Principal Robert Bowman said the re-do is moving along so well that the school is tentatively planning a re-dedication of the school at 6 p.m. on Wednesday, Dec. 19.
That's not to say it's been easy recovering and rebuilding from the $2 million in damages caused by the fire.
"It's nice to have a stable schedule," Bowman said. "It (the fire) displaced us physically and what we had to do with our schedule."
Adjustments have included serving school children their lunches in first their rooms and, starting this school year, in the school gym, which also suffered damage in the fire.
Physical education classes have either met outside or in classrooms. The school's annual Halloween festival was this year moved to Sierra Vista Middle School.
"At the beginning of the year the kids recognized they were going to have to make adjustments," Bowman said. "When it opens up I think it will be 'whoa, we have all this extra area to play!'"
The kitchen and cafeteria, formerly an old gym, will see the most extreme makeover. In the fire's aftermath, gone are the basketball hoops, gym flooring and lighting. "It wasn't really conducive for parent meetings," said Bowman. "There was a lot of noise."
When it opens in the next few weeks, the new Outlook cafeteria will feature warmer colors, typical school flooring and even a wall mural depicting the four seasons. Bowman said the idea is to create an open, inviting environment like the cafeteria at Sierra Vista.
There is also still a bit of work left in the gym. Once the cafeteria work is complete, crews will replace the gym floor that suffered extensive water damage in the fire.
Sunnyside Superintendent Dr. Rick Cole noted infrastructural upgrades since last year's fire. "We have re-established adequate water pressure and we have a new generating system to restore power during a power outage."
Inside, outside and all around it's a new era at Outlook School and Bowman, for one, can't wait to get work wrapped up next month.
"It will be a blessing," Bowman said of having his school whole again. "You have enough to worry about in the (principal's) chair without having to worry about whether the building will be up and running."
His ultimate goal is that the "like it never happened" appearance of his school in the aftermath of the fire will extend to students and staff. "Hopefully we can get back to the way we were before."