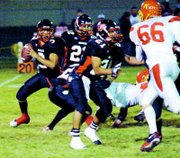 The Sunnyside High School football team last Friday found out first hand why the Kamiakin Braves are the No. 2 ranked 3A team in the state of Washington.
"They probably have the number one defense in the state," Sunnyside Coach Mark Marro said. "They haven't given up a point all season."
And so it went again last Friday as the Braves posted a 35-0 win over the Grizzlies.
The scoring came quick for the Braves. After Sunnyside went three-and-out, the Braves threw one long pass to go up 7-0.
On Sunnyside's second series, the Grizzlies drove to midfield but eventually turned the ball over on downs. The Braves then drove 50 yards for another touchdown, going up 14-0.
In the second quarter a sack on Kamiakin's quarterback knocked him of the game. The Braves punted and then two plays later, Sunnyside's Adrian Cantu was knocked out of the game as well.
"He just got his bell rung," Marro explained.
Sunnyside's Gibby Briones came in to play quarterback and soon threw an interception that a Brave ran back for a touchdown.
"Gibby doesn't have a lot of experience but he did a good job," Marro said. "We had to become real basic."
The Braves picked up another touchdown with under a minute in the half to go up 28-0 at halftime.
"The Braves only scored one touchdown in the second half," Marro said. "I thought we did real well defensively."
Marro said Kamiakin's success in the first half came mainly from Sunnyside constantly giving the Braves a short field to play with.
"It's hard for a defense to stop that," he said. "We held them to just over 200 yards. There wasn't much going on with both quarterbacks out."
Cantu completed 3-of-7 passes for 31 yards and an interception before being knocked out of the game. Briones completed 3-of-9 passes for 34 yards and one interception.
Danny Alvarez rushed 13 times for 45 yards for the Grizzlies. He also caught three passes for 38 yards.
"Our kids are playing good fundamental football right now," Marro said.
He said his team will need to win three of the next four games to have a shot at the playoffs.
Sunnyside will host West Valley Friday, Oct. 5, for a 7:30 p.m. game.
Rod Smith/Daily Sun News
Sunnyside's Gibby Briones drops back for a pass last Friday in the Grizzlies game with the Kamiakin Braves.