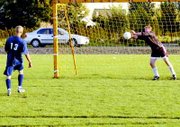 Let it be known the Sunnyside Christian Knights never do anything the easy way and last Friday wasn't any different as they beat the Riverside Christian Crusaders 2-1 in a shootout.
The Knights struck first in the 23rd minute on a Mike DeGroot goal assisted by Joel Koopsman.
"Joel sent the ball through on a fast break," SCHS Coach Tim DeGroot said. "He put it right over Mike's shoulder and he finished it to the right hand corner."
After that it was just an onslaught of Sunnyside Christian kicks on Riverside's goal. Only problem, Riverside keeper Chris Hargrave wasn't letting any by.
"He's a very good keeper," DeGroot said.
Good enough to stop 18 shots from the Knights.
Things were going well for SCHS until the 53rd minute, when Riverside Christian's Jason Bjur took a long shot that wrangled itself out of Doo Hong Park's hands to even the score at 1-1.
"It took a strange bounce and before we knew it, it was in," DeGroot explained.
The Knights tried furiously to score again but Hargrave denied the Knights time and time again.
"Riverside was playing for the penalty kicks," DeGroot said of the coming shootout. "It was a very smart move on their part. It has worked in the past."
Both teams went scoreless through the two five-minute overtime periods and settled for the shootout.
Hessel Veldhuis scored to give SCHS a 1-0 lead. This was mirrored by the Riverside player and then SCHS's Brenen Swofford missed and his Crusader counterpart made his shot to put Riverside up 2-1 in the shootout. SCHS's Sergio Mendoza made his and his counterpart missed, leaving the score tied at 2-2. Mike DeGroot made his, as did Riverside and the score was tied 3-3 with the last two players getting ready to go.
Koopsmans missed but fortunately so did Riverside, sending the shootout into sudden death.
Park missed his shot, but so did his Riverside counterpart. Then, SCHS's keeper Connor Erickson came out of the box and calmly put his shot into the net. It was then Hargrave's turn and the Crusader hit his shot wide right and the celebration began for Sunnyside Christian.
DeGroot gave his defense a lot of credit.
"Sergio fits so well with Bert's (den Hoed) style," he said. "The two styles side by side make it hard for teams to get past them."
He said he was very pleased with his team's effort, especially having to win in a shootout.
So far this year, the Knights have scored 36 goals while allowing only four goals against them.
In Friday's game, Erickson had four saves and Park had one. Hargrave had 10 saves for Riverside Christian.
SCHS (2-0, 8-0) will travel to Trout Lake Tuesday, Oct. 2, for a 4 p.m. game.