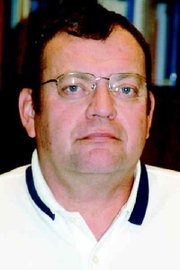 Former Sunnyside High School varsity boys basketball coach Ron Rowe has been recommended to fill the position for a second time, beginning with the upcoming 2007-08 season.
School Superintendent Dr. Rick Cole confirmed that Rowe's selection has been recommended to the district. Rowe's official hiring for the post is pending school board approval during its Oct. 25 meeting.
Rowe, a social studies teacher at the high school since 1988, coached the boys varsity squad from 1988 to 1993. His tenure included a state tourney appearance in 1990.
If hired, Rowe said he is looking forward to the opportunity to again coach the squad. "I like the idea of working with the kids in competitive situations," he said.
Rowe said his interest in coaching goes back to his high school days in Goldendale, where a coach there encouraged him to pursue coaching. Rowe later coached at Goldendale before moving on to Sunnyside.
Though he has been away from high school basketball coaching for more than a decade, Rowe has stayed up to date on his hoops x's and o's by coaching at NBC basketball camps in eastern Washington and Oregon.
If hired, Rowe said his focus is to set a "positive mental attitude" for the 2007-08 season. He said there would be a "concentrated effort to play hard."
He said strong rebounding will be a key for the experienced core of players that Sunnyside has returning. "I'd like some post-up play," he said.
Under Rowe's direction, Sunnyside will look to a man-to-man defense and on offense maneuver players under the basket. "I'd like to see us have a perimeter game, too," he noted.
Rowe said it will be important for him to be flexible in working within the abilities of the players who eventually turn out for this basketball season.
Much has changed since Rowe last coached the Grizzlies. Sunnyside is now a 3A school that plays in the 3A/4A Columbia Basin League. Previous foes like Wapato, Ellensburg and Prosser have since dropped back to the 2A ranks.
"Obviously we're facing a strong league," he said of the CBL.
Rowe said some of the tangibles that would mark this year's team with him as coach would be, "playing hard, giving your best effort and playing as a team." He added, "We'll have aggressive rebounding and aggressive defensive play."