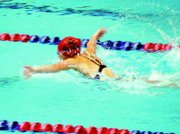 FEDERAL WAY - The Sunnyside swim team competed against 88 teams at the Mukilteo Invitational in Federal Way this past Saturday.
The top swimmer for the Lady Grizzlies was Kaitlyn Broersma, earning 10th place honors in the 100-meter breaststroke. Broersma clocked a time of 1:12.45. She finished 25th in the 200-meter freestyle, with a final time of 2:12.78.
Sunnyside's Toni Castillo had a 15th place performance in the 50-meter freestyle, finishing in 27.17 seconds, and her 18th place finish in 1:08.30 in the 100-meter butterfly also earned recognition for the team.
Christine Kim and Emily Hutchins competed in the 100-meter freestyle event for Sunnyside, clocking 59.58 and 1:15.34, respectively. Kim's performance earned the swimmer 17th place honors.
The pair also swam in the 50-meter freestyle event. Kim clocked a 20th place finishing time of 27.43 and Hutchins swam in 32.87.
Broersma, Castillo, Kim and Hutchins competed in the 200-meter medley relay, earning 29th place honors in the event.
Sunnyside Swim Coach Holly Dunham-Wheeler said, "We ended up swimming some different events and scratching others..." because of the power outage.
Overall, she felt the team did well at the invite, and she looks forward to the next meet at the Yakima Valley Championships to take place this coming Saturday at Lions Pool in Yakima.