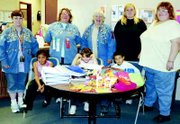 Sunnyside TOPS chapter 1331 came up with a new motivation to lose weight. TOPS, which stands for taking off pounds sensibly, is a support group for anyone trying to lose a few extra pounds.
The ladies of chapter 1331 decided anytime one of them didn't lose any weight during their weekly weigh-in, the person would have to donate an item for a school.
"Most of us are mothers or grandmothers," TOPS member Nancy Mosby said.
This is the second year the group has done this and this year it was Washington Elementary School that benefited. Last year Pioneer Elementary School received school supplies.
During the last three months the members of TOPS would donate an item each time they gained a pound and soon members were donating to the pile even if they had lost weight.
This past Friday five members of the Sunnyside TOPS group dropped the items off at Washington. Included were binders, loads of paper, pencils, glue, crayons and a host of other important school supplies for the year. The ladies presented the gifts to three kindergarteners.
Shirley Purdy had the honor of bringing in the most school supplies but she insists it wasn't because she was gaining weight.
"I did it to help our community," she said.
TOPS chapter 1331 will pick a new school next year.