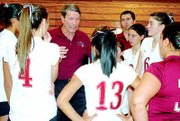 GRANDVIEW - The Grandview High School girls volleyball team lived up to its number two ranking in the state last night, Tuesday, with a 3-0 home sweep of Ellensburg.
The visiting Bulldogs were state tourney qualifiers a year ago and return many of their players from last season.
But Grandview made it look like an intramural match early on, bursting out to a 13-0 lead in game one on the strength of Jessica Gonzalez's serving and stellar play at the net and in the middle.
Ellensburg answered with an 8-1 run to get back into the first game. "Ellensburg's a good team," said Grandview Coach John LaFever. While a surge by the Bulldogs wasn't unexpected, LaFever said his team did have a let down in the areas of communication and attacking the ball.
Following a timeout, Grandview cruised to an 11-5 run to wrap up game one by a score of 25-13.
Things remained tight in Grandview's 25-19 game two win, which saw Ellensburg rally from a 23-15 deficit to make things interesting.
The third and final game started out tight, as well, before Grandview broke open a 5-3 lead to go on to a 25-8 victory.
Kealey Johnston keyed the Lady Greyhounds in game three with six consecutive service points, a run only interrupted when an in call on the Ellensburg sideline was overruled and deemed out.
LaFever was generally pleased with his team's play, especially in the passing department.
The trio of Kinzi Poteet, Raissa Licano and Sydney Mottice had their usual stellar game at the net for Grandview, with 12, 9 and 8 kills, respectively. Poteet and Mottice also had four blocks each.
Johnston also hustled for a team-high 11 digs and Katie Veloz had 10. Vanessa Medina handed out 34 assists for the Lady Greyhounds.
Gonzlez ended up with 20 service points for the three-game match and Johnston had 14. "The service game is real important for us," LaFever observed.
Despite remaining undefeated, LaFever said Grandview, 7-0 in league and 19-0 when taking into account all tournament matches this season, is always looking for ways to improve.
The Lady Greyhounds' next opportunity to fine tune their game will be this coming Thursday at Quincy.