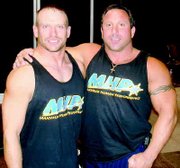 LAS VEGAS - Outlook's Joe Luther recently participated in the Mr. Olympia Kings of the Bench competition, placing third.
Lifting in the lightweight division, Luther was pitted against three other competitors, Joe Mazza, Ray Hickman and Chase Martin.
Luther and Mazza tied at last year's event with both lifting 420 lbs. In an ensuing rep-off to break the tie, Luther beat Mazza for the title.
This year was different.
"When I saw how much physical mass Mazza had put on I knew he had come well trained," Luther said. "I thought he would get 450 lbs."
Mazza ended up lifting 445 lbs. to win the competition in Las Vegas. He was followed by Hickman, who lifted 435 lbs., Luther at 425 lbs. and Martin lifted 400 lbs. in the bench pressing event.
Luther had sustained an injury three weeks before the Sept. 28 event. He strained his pectoral major tendon and had been rehabing it.
"It felt all right," he said.
On Luther's first lift (390 lbs.) he said he felt pain but after his second lift (410 lbs.) he said he felt better.
"I think it was because I was warmed up," Luther explained.
His third and final lift at 425 lbs. was painful, according to Luther, but he said he wanted to leave Las Vegas with at least a personal best, something he was able to do.
He said he'll train differently for next year, where he believes he can lift 450 lbs. Luther was training more for a rep-off that was canceled at this year's competition and believes it was this training that injured him.
His new training regime will include building up his lifts as high as he can for an eight-week period and then cycle back down. When he does his next eight-week period of building up, he will increase the weight.
"If it works I'll know in eight weeks and if it doesn't I'll have time to change it," he said.
Luther said he knew Mazza and Hickman were coming to Las Vegas to win but thinks he could have been right up there with them if he wouldn't have been injured.
"I had a lot of fun," he said. "I hated coming in third but it will just make me work harder."