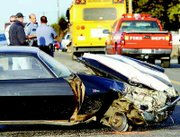 A 37-year-old Mabton man crashed a vehicle he allegedly stole into a busload of Sunnyside School District students on their way to Outlook Elementary School at approximately 8 a.m. today.
According to local police, Gilbert Woods was driving the stolen car when it was spotted by a friend of the true owner of the vehicle. The friend followed and called the police, according of Sunnyside Police Officer Preston Kelley.
Once the thief spotted police cruisers near him he sped off in the car. At the intersection of Maple Grove and Van Belle roads the car thief slammed on his breaks to avoid hitting the school bus, but failed.
Sunnyside School Superintendent Dr. Rick Cole said there were 37 students on the bus and six of them were transported to Sunnyside Community Hospital for precautionary reasons.
"All the parents have been contacted," Cole said. "There doesn't appear to be any serious injuries."
Cole said there is extra counselors on hand at Outlook Elementary School to help students upset by today's events.
"We're just thankful there were no injuries," Cole added.
Kelley said after Woods crashed into the school bus he fled the scene, but eventually police found him underneath a horse trailer.
Woods was arrested and will be charged with possession of stolen property. Kelley said Woods will probably face more charges from the Washington State Patrol as a result of the collision.