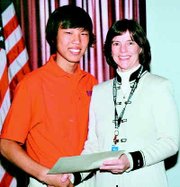 Sunnyside High School students Matt Barr and Anthony Kim can officially say they're among the first graduating students from the Washington Aerospace Scholars program.
Barr and Kim trekked to Seattle's Museum of Flight this past June to take part in the residency program after first studying the NASA-designed distance learning curriculum for six months.
According to Barr and Kim, that meant essays every other week for six months. The final project, they said, was a 1,000-word essay on a current NASA project or some aspect of the aerospace industry. The boys passed, and were able to attend the residency in June.
Kim said that only a third of all applicants were accepted to the six-month program, and only the top students from that program were selected for the residency.
While at the Museum of Flight, students were broken into groups to design a human mission to Mars. There were four groups, a group to plan on how to get there, a group to plan how to live there, a group to plan how to work there and a management group to oversee all aspects.
Said Barr, "Anthony and I both got leadership positions."
Kim led the "getting there" group, while Barr led the management group.
Barr said it's important to note that both he and Kim attended Evergreen Boys State a week before the residency and they learned about leadership. He added that seven of the eight students selected as leaders at the Museum of Flight had just participated in Boys or Girls state.
Students had to consider all aspects from designing and launching the ship to protecting the ship from natural elements.
In the end, said Kim, "The projected cost of a trip to Mars was over $300 billion." Added Barr, "And about three quarters of that was just the launch."
While staying in Seattle, Barr and Kim also got to take a VIP tour of Boeing that is usually reserved only for individuals or corporations that are buying an airplane. They also got to take tours of different places, like the University of Washington's engineering program.
Barr said he got to see the university's ram accelerator, which "hyper accelerates any object to go beyond its terminal velocity and just shoots it out like a cannon."
Kim said that he got to see a robotic piece of equipment used for physical therapy that attaches to the patient and multiplies the patient's strength three times. He also saw a robot that would allow a physician in one place to perform surgery through the robot on a patient in another place, in other words, cross country surgery.
Barr plans on pursuing degrees in computer science, theater, law and music. Kim said he will likely pursue a degree in the medical field.
The students also got to meet famed Sunnyside astronaut Dr. Bonnie Dunbar, who is currently the President and CEO of the Museum of Flight, as well as Governor Christine Gregoire.
The boys said they strongly recommend students apply for the Washington Aerospace Scholars program. "If it sounds boring, don't be fooled," said Barr.
Applications are currently being accepted for the next program.
"Washington Aerospace Scholars aims to increase the number of Washington state students who choose to major in science, technology, engineering and mathematics," said the programs coordinator, Rosie Bailer.
There is no cost to participate in the program, as it is grant supported.
Applicants must be high school juniors, at least 16-years old, Washington residents and U.S. citizens. Participants are required to have access to the internet and should have a minimum cumulative grade point average of 3.0.
Applications are available by visiting www.museumofflight.org, or by calling 206-764-5866.
Completed applications must be postmarked no later than Nov. 9, 2007.