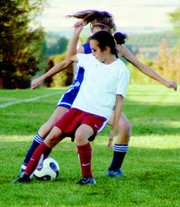 GRANDVIEW - The Lady Greyhounds soccer team fell to the Ellensburg Bulldogs 3-1 at home last night (Thursday), moving their league record to 1-7.
Greyhound Anna Maria Sanchez was the first to score last night, the goal coming in the 14th minute of the game. Ellensburg scored in the 29th minute of the game, moving the score to 1-1 going into the half.
In the first half of the game, Ellensburg had five shots on goal, while Grandview had three.
Ellensburg scored another goal from a penalty kick 22 minutes into the second half.
"The next 10 to 12 minutes after that were epic, from one end of the field to the other," said Grandview Coach Anne Holden.
It wasn't enough to hold Ellensburg off though, and they scored again in the 73rd minute of play.
Grandview's goalkeeper, Annie Cambron, had eight saves for the night, while Ellensburg had five.
Grandview next plays against Othello this coming Saturday.