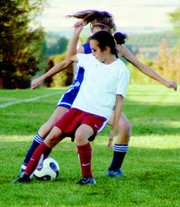 KENNEWICK - These girls are starting to believe in themselves.
The Sunnyside Lady Grizzlies volleyball team played a tough, exciting match for two and a half hours last night (Thursday), beating the Kennewick Lions 27-29, 27-25, 25-27, 25-23, 15-11.
The victory avenged a 3-0 loss to Kennewick back in mid-September.
"I've been a coach for 10 years and this was the most intense match I've ever coached," said Angel Carrizales, assistant coach of the Sunnyside Grizzlies. "The whole play by play in the first four games I couldn't tell you. It was a blur."
Carrizales took the helm of the team last night when head coach Mhike Dumo couldn't attend.
Carrizales pointed out all of Sunnyside's players contributed in the win. The players set a goal for themselves, according to Carrizales, deciding not to allow more than two aces in any one game.
"Four of the five games we were able to do that," Carrizales said.
She attributed the serve-receive of the Grizzlies as being one of the keys in last night's win. Switching Loni Ramos to the right side of the court helped fill a hole in the serve-receive.
"Claire (Schilperoort), Kasi (Guillen), Alexis (Ramos) and Loni really contributed to the serve-receive," Carrizales said.
In the first four games no team was ever ahead by more than five points, each team slugging it out until the end.
In the fifth game, thanks to six consecutive service points from Alissa Martin, Sunnyside was able to take a 14-7 lead.
"There wasn't one person not focused off the bench or on," she said.
The Lions managed to get four points back in the fifth and deciding game before a side-out gave the Grizzlies the win.
Jordyne Jaquish had a career high 38 digs in the marathon match. Schilperoort finished with 22 digs and 12 kills. Molly Dolan had five blocks and two kills.
"Molly was a huge contributor," Carrizales said. "Kennewick has two big outside hitters and Molly shut them down. She was a huge factor."
Guillen finished with a career high 38 digs. Melissa Stamschror had a career high 35 digs.
"She was a huge key," Carrizales said of Stamschror. "Her set selection was very appropriate. She made the hitters successful."
Ramos had 10 kills and 20 digs.
"This was a huge team effort," Carrizales added. "We were waiting for this game. The community should be proud of these girls, they represented them very well last night."
The win puts Sunnyside at 3-5 in league play. Sunnyside will have the weekend off and then continue a lengthy road schedule at Eastmont Tuesday, Oct. 9, at 7 p.m. Sunnyside beat Eastmont earlier this season three games to none.