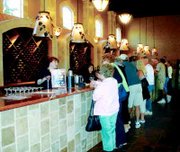 LAKE CHELAN - The wineries of Washington's newest wine-growing region, Lake Chelan, invite everyone to celebrate the 2007 grape harvest by joining in the fourth annual "Fall Crush...Berry to Bottle." This year's festival starts Friday, Oct. 5, and runs through Sunday, Oct. 14.
Lake Chelan wineries indulge in the "Fall Crush" as a way to celebrate the harvest and show off their award-winning wines.
The Berry to Bottle tour takes both new and experienced visitors through the multi-step process of wine making with stops at 11 area wineries. In addition to the customary wine-tasting opportunities, each winery will offer presentations and hands-on demonstrations of time-honored wine growing and winemaking artistry.
Winery guests will learn a range of trade techniques from fermentation management and fruit handling to barrel aging and closure. Visitors will be able to enhance and maximize the personal wine experience with demonstrations on evaluating wine with all your senses and exploring the marriage between food and wine. Wine enthusiasts are encouraged to talk with growers and winemakers during the visit.
"The grape harvest is an essential step in the art of wine making," says Loni Rahm of the Lake Chelan Wine Growers Association.
"The Fall Crush provides the perfect opportunity for us to demonstrate to our visitors both the science and the passion that helps fruit make the transition from vine into wine," Rahm added.
Lake Chelan restaurants join in the celebration with a number of mouth-watering dining options. Most restaurants present menu specials paired with a local wine recommendation.
This year's entertainment line-up includes live music and, for those who can't resist, the chance to kick off their shoes and experience an old fashioned grape stomp.
Lake Chelan Wine Valley is tucked in the sun-drenched heart of Washington state near the pristine, shining waters of Lake Chelan. The dozen area wineries are complemented by world-class golf courses and abundant recreational opportunities in this intimately unique resort community. The wineries boast an array of award-winning traditional reds and whites topped off with unique blends grown in the fertile rolling hills surrounding the lake.
For more information about the Crush or Lake Chelan, visit www.cometothelake.com.