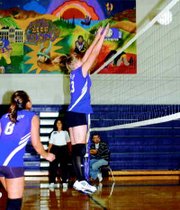 MABTON - The Lady Vikings volleyball team swept the Highland Scotties at last night's homecoming match, 25-12, 25-19, 25-23.
Thursday night's victory snapped a two-match losing skid for Mabton, and improved the Lady Vikes to 5-3 in 1A league play.
In the first game, Crysta Reynolds garnered eight service points for Mabton. In that game, says Coach Marty McCallum, "We pretty much served them off the floor."
That didn't happen in the second and third games. In fact, Mabton's control of the ball began to slip, giving the Scotties a bit of an edge, albeit, not a big enough edge to win.
In the second game, McCallum said, "They actually jumped on us (by five points)." Mabton got it back and went on to win 25-19.
"We didn't play our tempo of volleyball," McCallum said.
Lady Viking Monica Tellez had five assists, five kills, two aces and two digs in the three-game match, while Reynolds had eight aces, nine digs and a kill.
Trishi Williams had seven kills, four digs and two blocks for Mabton. Teammate Heidi Nunez had seven assists, two digs and an ace; and Kayla Campbell had three digs, two aces and a kill. Also, Lady Viking Debbie Enriquez had three assists and one dig and her teammate, Jessica Quesada, had three digs and an ace.
Mabton next competes against Cle Elum at home next Tuesday.