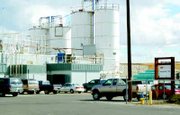 In a merger between east and west, J-M Manufacturing of New Jersey has purchased Oregon-based PW Eagle, which has a pipe manufacturing plant in Sunnyside. The new company will be called JM Eagle.
Back in the 1970's, PW Eagle was the second industry to come to Sunnyside and connect into the Port of Sunnyside industrial wastewater facility. PVC pipes manufactured here are sent all over the world, as well as put to use right here in the Lower Valley.
Approximately 45 miles of pipe are made per day here.
That's not going to change anytime soon, even with the merger earlier this summer.
That's according to company spokesperson Kathleen Sheridan. "There are no plans at this time to make any changes," Sheridan said of operations in Sunnyside. She said J-M Manufacturing, now JM Eagle, will next year move its headquarters from New Jersey to California.
No Sunnyside JM Eagle employees were available to speak on the record about the purchase, per corporate instructions.
The deal makes JM Eagle the world's largest plastic pipe producer.
The companies collectively known as JM Eagle will together have 25 manufacturing plants in North America and a workforce of approximately 2,300 employees.
J-M Manufacturing paid $33.50 in cash for each share of PW Eagle common stock, for a total acquisition price of approximately $400 million. Trade of PW Eagle stock ceased on the NASDAQ global market when the deal was finalized in June.
"This merger brings together two outstanding companies with complementary strengths to enable a new and unprecedented level of customer service," said Walter W. Wang, president and CEO of JM Eagle. "JM Eagle is now positioned to offer our customers the greatest breadth of product, the broadest geographic reach, the most cost effective production operations, the highest capacity, and the most comprehensive field sales support team in the industry."