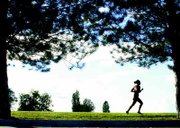 GRANDVIEW - In a three-way meet between Grandview, Ellensburg and Wapato Thursday, the Grandview Greyhound cross country team clocked respectable times against the competition, but fell short of a victory.
"I was real pleased with the boys' performance," commented Grandview Coach Jim Pillars.
He said Grandview's Jose Mendez and Jordan Sanchez were the top finishers for the team, earning third and fourth place honors, respectively. Mendez finished the cross country course with a time of 17:04, and Sanchez was close behind his teammate, clocking a time of 17:18.
"Jose and Jordan are running like State caliber runners," said Pillars.
Grandview teammates Koty Kollmar, Spencer Blanshan and Michael Chase also finished the meet with notable times. Kollmar earned 12th place honors in a time of 18:27. Blanshan finished in 19th place, clocking a time of 19:24, and Case's time of 20:36 earned him a 28th place finish.
"The kids had an absolutely great day and showed a lot of heart," Pillars stated.
He said the team is showing improvement in their times and he feels they are running as they should be.
The Greyhound boys lost by 21-40 and 26-33 scores against Ellensburg and Wapato, respectively.
Grandview's lone girl on the cross country team, Krystal Martinez, earned fifth place honors for her performance. Though she was beaten by four girls from Ellensburg and Wapato, she clocked a respectable time of 23:41.
"Krystal is performing well, progressing at a rate that she needs to and doing the best she can," said Pillars. "I'm real proud of her."
The Greyhounds will travel to Richland for the Richland Invitational tomorrow (Saturday). The invite is scheduled to begin at 11 a.m.