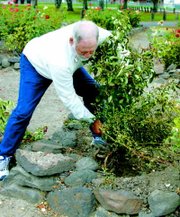 Guila Christie (Ramey) Swigart, 81, of Prosser died Saturday, Oct. 6, 2007, in Prosser.
She was born to William Wyatt and Ruth B. (Davis) Ramey in Christie, Okla. She came to Washington state in 1944.
She married Loren J. (Bud) Swigart on Nov. 3, 1946, in Sunnyside. She is survived by her husband, Bud Swigart; her daughters, Brenda Farthing and Kathy (Edd) Watson; three sons and spouses, Myron and Linda Swigart, Terry and Terri Swigart and Roger and Shelly Swigart; her grandchildren, Emily (Swigart) and Dan Davis, Sarah (Christie) and Josh Culver, Cody Watson, Rebekah, Isaac and Hannah Swigart, Christopher and Jamie Swigart, her stepgrandchildren, Jerrid, Keri and Geri Wolff; great-grandchildren, Kendyl and Gavin Schloss, Ceydar Davis and Jaylee Culver; her sisters, Ruby England, Page Bradford, Maxine Jensen, Mona Still and Virginia Griffin; her brothers, Bill and Carl Ramey; and many nieces and nephews.
Guila was preceded in death by her sons, David and Mark Swigart; a son-in-law, Robert Farthing; her parents, William and Ruth Ramey; and a brother, James Ramey.
In lieu of flowers, the family suggests memorials be made to Lower Valley Hospice, NAMI (National Alliance of Mentally Ill., or your favorite charity.
At her request, a private graveside service with an open house in celebration of her life will be held at a later date.
Smith Funeral Home in Sunnyside is in charge of arrangements.
More like this story