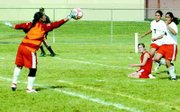 What a difference a month makes.
After surrendering six first half goals on the way to a 10-0 defeat at Kamiakin on Sept. 12, the Sunnyside High School girls soccer team threw a scare into the Braves before falling 4-0 this past Saturday at home.
The Lady Grizzlies shut out Kamiakin for the entire first half to make it a 0-0 game at the break.
"We were just as aggressive as we could be," Sunnyside Coach Jon Soule said of his team's effort on defense. "We attacked the ball and got after it. We got them offside several times and they (the Braves) were frustrated."
The Braves finally broke through for a goal in the 50th minute on a breakdown in the Sunnyside defense. "We misplayed the ball," Soule noted.
Another miscue accounted for a second Kamiakin goal six minutes later. "The ball bounced out and when our keeper tried to meet the ball they just flipped it over her head."
The Braves scored two more second half goals from there to put the match away.
On offense, Sunnyside also had some good looks at the net. The Lady Grizzlies' best chance for a goal came on a pass to Mayra Serna in the opening minutes of the second half. "If we could have gotten the ball a half second earlier to her we would have had a good shot," Soule said.
Keeper Yesenia Ruiz had three saves for Sunnyside, which with the loss dropped to 1-7 in league play and 1-11 overall.
Moral victories may not show up in the win column, but Soule feels Saturday's effort was a step forward for the Lady Grizzlies.
"Now we're able to meet the other team at the same intensity level," Soule observed. "We just have to minimize the breakdowns and find our offensive groove."
Sunnyside will look to show continued improvement at Eastmont this Tuesday, Oct. 9.