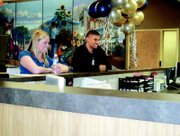 Norman Robert Carow, 88, of Sunnyside died Monday, Oct. 8, 2007, at Sunnyside Community Hospital.
He was born May 24, 1919, in Lothair, Mont. to Emil A. and Effie M. (Harris) Carow. He graduated from Wapato with the class of 1940. He served in the U.S. Army.
On Dec. 16, 1944, he married Sue Keele in Waco, Texas.
He had worked for Standard Oil Company for 10 years, and he retired from the Washington State Highway Department in 1979.
He is survived by his wife of 62 years, Sue Carow of Sunnyside; one daughter, JoAnn Carow of Prosser; one son, Kenneth Carow of Yakima; two grandchildren; and two great-grandchildren.
He was preceded in death by his parents; one sister, Doris; and one son, Bill Carow.
Private graveside inurnment services will be held at the East Prosser Cemetery.
Those wishing to honor his memory may contribute to the American Diabetes Association.
Smith Funeral Home and Crematory in Sunnyside is in charge of arrangements.
More like this story