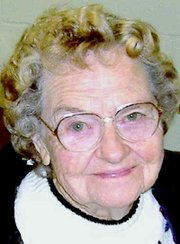 An invitation only celebration took place this past Saturday, Oct. 6, in honor of Helen Leach's 90th birthday.
More than 100 family members and friends from as far away as Massachusetts and Delaware were invited to join Leach in the celebration at the Nazarene Church in Zillah.
The celebration focused on memories, and musical presentations were provided by her children and grandchildren.
Leach was born in Grant County and moved with horses and wagons to the Yakima Valley when she was a child.
She attended Alfalfa School and later graduated from Sunnyside High School as the salutatorian of her class.
Leach and her husband, Roy, owned a farm on Satus and moved to Granger after 40 years of farming. She has since remained an active member of the Parkside Missionary Church in Granger.
When asked how it felt to be 90, Leach responded, "Most of the time I don't think about it. But now that it's here, I intend to enjoy it."
Leach has seven children, 22 grandchildren, 39 great-grandchildren and one great-great-granddaughter. Her immediate family includes 90 members, and she was married to Roy for 65 years before he passed away in 1999.