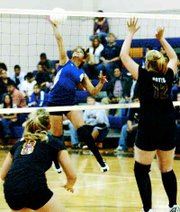 MABTON - The Cle Elum Warriors dealt the Lady Vikings a three-set loss last night at home, moving Mabton's record to 5-4 in league play.
Mabton Coach Marty McCallum said that one of Cle Elum's strengths is Taylor Rico, who was 25-for-25 serving Tuesday night.
"In the first match, it was a battle back and forth until (Rico) got back there to serve," said McCallum, adding that his team had a hard time returning her serves. "It was our serve-receive that got us." Mabton lost the game 25-13.
Being without freshman Crysta Reynolds also hurt the Vikings. McCallum said that it weakened Mabton's blocking and serving, and also weakened the offense.
In the second game, McCallum said Mabton was down by several points early on, but fought back. Despite the fight, Mabton lost the game 25-20.
Rico's serving proved to be too much in the third game, which Mabton lost 25-13.
McCallum said of the Vikings, "Their hearts were there, but we didn't make the plays when we needed them."
Mabton's Debi Enriquez had five digs and an ace for the night, while teammate Trishi Williams had nine digs, four kills and two blocks. Monica Tellez had four assists, three kills, three digs and two aces for Mabton. Jessica Quesada had eight digs and two kills and Kayla Campbell had four digs. Erica Vargas had one dig for Mabton.
Mabton next plays Granger tomorrow (Thursday) night.