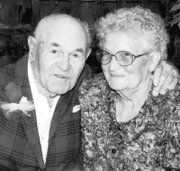 Alex and Ann Radach will celebrate their 60th wedding anniversary with a family gathering later this fall.
The Radachs were married Oct. 13, 1947 in Oneonta, Ala. Alex is a retired farmer and Ann is a homemaker.
They have three children, Bob Radach (Grandview), Nancy Bateman (Benton City) and Linda Ferson (Sunnyside).
The Radachs also have several grandchildren and many great-grandchildren.