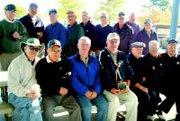 KENNEWICK - Last week's runner-up finish on the final stop of the 2007 Columbia Basin Senior Golf Tour wrapped up a wire-to-wire campaign for the Sunnyside Black Rock Creek team.
Black Rock Creek grabbed the tour points lead at the beginning of the 2007 season, and never relinquished it.
In the 10 years the Central Washington senior golf tour has been in existence, this is the first time that either the Desert Aire or Walla Walla Veterans golf course teams haven't won the season championship.
Black Rock Creek finished atop the 2007 standings with a tour best 131 points. Desert Aire, with 121 team points, claimed runner-up honors this year. The Columbia Point team from the Tri-Cities finished third with 112 points. The Walla Walla Veterans Golf Course squad, with a record five senior tour titles to its credit, settled for a fourth place finish in 2007, with 110 team points.
At last week's final stop on the 2007 tour, staged at the Tri-City Country Club in Kennewick, Black Rock Creek finished in second place, 16 strokes back of Desert Aire.
James Noel posted the lowest round for the Sunnyside team, shooting a 77. Teammates Larry Kleingartner and Ron Dobrauc finished one shot back, with identical 78's.
In the net column at the Tri-City Country Club (actual score minus handicap), Black Rock Creek's Mike Stegeman tallied a 64. Finishing with handicap-aided 65's for the Black Rock Creek team were Perry Barnhill, Art Pittillo and Stan Davis.
Black Rock Creek's Lindyn Andreasen won KP honors on the eighth hole that day. Snaring gross skins for the Sunnyside team were Dobrauc (No. 2) and Bernie Schutt (No. 11).
Black Rock Creek team spokesman Max Wickham said all of this year's tour participants are invited to a season ending meeting at the Tri-City Country Club on Wednesday, Oct. 24, where a discussion will be held on how to improve the tour. Those planning on attending the 9 a.m. meeting are asked to contact Wickham beforehand.