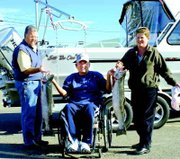 Steelhead fishing has taken on a whole new perspective for Carolyn Smith of Sunnyside. It's a real life fish story she's only too happy to share.
With two brothers, Mike and Dave Hazzard, in wheelchairs, she found it increasingly difficult to load them into the fishing boat she owns with husband, Greg Smith.
That all changed last year when the Smiths took a boat shopping trip to the Tri-Cities and visited Northwest Jet. There they learned that a device could be fixed that would lift the brothers and their wheelchairs into the boat.
"I thought if I'm getting a new boat I want to see if we can design something to lift my two brothers in wheelchairs," Smith said. "I used to lift them in and out of the boat but I can't do it anymore."
Smith said the boat company worked with her family in creating a portable lift device that could be used on or off the boat.
"They've never had anyone ask them for something like this," Smith said of Northwest Jet. The idea has since gained momentum, though, with the Smith family's rig serving as something of a "guinea pig" for possible use by others who have difficulty getting in and out of a boat.
"They live to fish," Smith said of her brothers. "For me to be able to do this (the lift) for them is fun."
The Smiths were able to get their boat rig up and running last year in time for Dave, who had polio, to enjoy a couple weeks of open water fishing before he died.
"We go to Curlew Lake every year. At first, people thought it (portable lifting defice) had something to do with wake boarding," Smith said. "When people saw us do this with Dave they thought it was the neatest thing they'd ever seen."
Mike, who has been paralyzed since a swimming accident numerous years ago, is now enjoying his second year with the lift. "It's such a thrill for him in getting in and out of the boat and catching something," Smith observed.
She said the equipment is rigged so that Mike can actually control it, giving him the ability to raise and lower himself.
Once on the boat, the Smiths and Mike enjoy family camaraderie that comes with a day on the water. "I cook on the boat for us," Smith says. "Oh the fishing stores we tell!"
The other thing about being on a boat, Smith observes, is that fishing is a great equalizer.
"We're on equal terms. Everybody's got a pole out," she notes. "It's not how fast we can run or how far we can kick, it's just having the right lures."
Once a fish is on, Mike can remain independent with an electric reel he can power.
Whether or not the fishing is good, Smith says the boat lift means every trip on the water is successful.
"None of us want to be dependent on someone else, so with this device Mike doesn't have to rely on anyone to get into the boat," Smith said. "That's a great day in itself, even if you don't catch anything."