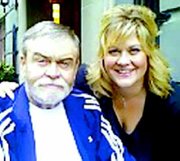 SEATTLE - Shelby Hall of Grandview exemplifies a daughter's love for her father, as she recently donated a kidney to her dad, Harlan Sandifer.
Hall said her father has suffered from diabetes for a number of years. As a result of his diabetes, Sandifer had a series of staph infections that required strong antibiotics.
"He was warned that the antibiotics may cause organ failure, but it was a choice between dying from the infections or battling the organ failures," said Hall.
Sandifer opted to undergo treatment for the staph infections and as a result his kidneys failed.
"He had to be on dialysis for 33 months," Hall relayed.
In the fall of 2006, Sandifer began the screening process to become a candidate for an organ transplant.
After several months, he was placed on the national organ transplant list.
Sandifer's sister was tested to see if she might be able to donate her kidney. She wasn't a candidate.
In May of 2007, Hall decided to be tested to see if she would be a good organ match for her father.
"It is a lengthy process, and though all three of us (Hall and her siblings, Holly Ohler and Chad Sandifer) might have been a match, I felt that because of my stage in life I would be best able to donate my kidney. I don't have young kids and my lifestyle doesn't require as much of me," Hall explained.
The results of her testing classified her as a near perfect match, which Hall stated is rare.
Several months of testing and screening followed the discovery. "It is a huge process and it lasted through most of the summer. In August, we were able to meet with doctors at Virginia Mason Hospital in Seattle to set up the transplant date for September 25," Hall stated.
She said the transplant went well and although she had been forewarned as to how she might feel following the procedure, she was still surprised.
"The first day I felt like a little truck hit me and by the third day I felt like one of those three-trailer trucks...you know the one's in Oregon...had hit me," she joked.
Hall spent a total of four days in the hospital following the procedure and her father spent eight days recovering.
In addition to receiving a new kidney from his daughter, Sandifer's doctors opted to remove his gall bladder. "During the blood tests the doctors discovered he had kidney stones, and they felt removing the gall bladder would prevent complications with the transplant," Hall explained.
She was scheduled to return home to Grandview yesterday, but her mother and father will remain in Seattle for a minimum of three more weeks.
"He has to go to daily appointments to make sure his body doesn't reject the kidney," said Hall, stating the doctors want to ensure anti-rejection medications Sandifer is taking are working.
"Overall, he is doing very well and I am a little sore still. His kidney is working so well we have to joke about him having the kidney of a 36-year-old female, especially since it is working too well and he has to 'go' a lot," Hall laughed.
Family and friends have been very supportive of Hall and her father throughout the entire ordeal. They have been visiting a blog set up for the purpose of updates and many have sent gifts or visited.
"We absolutely love the time and efforts shown by family and community members. There have been more than 4,000 hits on the blog and many have left comments for us. It has been a Godsend to know how many people care," Hall stated.
She said the support has been overwhelming and there would be no possible way for the family to thank everyone or keep them up to date without the blog.
Currently, the Sandifers have yet another family member in the hospital. Hall's mother underwent a hip replacement in June, and it recently collapsed on her. So, doctors at Virginia Mason performed another hip replacement surgery this week.
"We now joke that the hospital should have a Sandifer wing. But, mom is doing well," Hall said.