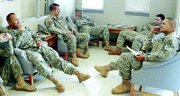 GRANDVIEW - After 12 months in Iraq conducting detention operations and supplying convoy security, the men and women of the 790th Chemical Company of the Washington State National Guard are back home.
The company returned to U.S. soil Friday, Sept. 28, and immediately received a four-day pass. Most of the soldiers went home to see family and that's where PFC Celia Torres was able to satisfy one of her worst longings while in Iraq. The 21-year-old Sunnyside resident was able to taste her mother's cooking.
"I missed my mom's food," she said. "It was the little things like that."
Torres, along with her 23-year-old sister and fellow soldier in the 790th Chemical Company, Specialist Maria Torres, trudged back to Camp Murray with the rest of her comrades after the four-day pass was up. At the camp in Fort Lewis the soldiers de-mobilized, then were sent to the company's home base in Grandview. The unit will spend three days in Grandview going through more de-mobilizing before being dismissed.
"They're getting debriefed to get back into the one weekend a month weekend mode," Master Sergeant David Largent explained.
Approximately 60 members from the Grandview based National Guard unit left the Lower Valley July 10, 2006 for a U.S. Army base down south. There they were trained for their coming mission in Iraq. The troops of the 790th took over security at an Iraqi prison from their sister unit, the 792nd Chemical Company.
In Iraq the troops guarded prisoners and supplied security on convoys when moving prisoners. The inmates ranged from insurgents, Iraqi military forces and petty criminals.
Specialist Marvin Gregory spent his year being a prison guard. Gregory volunteered to transfer to the 790th Chemical Company from the 506th Military Police Company, after learning the Grandview unit was deploying to Iraq.
"One of my younger troopers was going and I didn't want him to have to go by himself," he said, also citing his belief of duty to his country.
Gregory wasn't the only soldier who transferred into the 790th to get to Iraq. Specialist Matt Eagen of the 20th Mobile Air Command in Graham, Wa. did, too.
"Me and my buddy wanted to," Eagen said of his volunteering to go to war. "We were the only ones (in Eagen's unit) who hadn't deployed yet."
Four months prior to deploying for duty in Iraq, Eagen was in basic training.
"When we first arrived (in Iraq) it was weird but I got used to it pretty quick," he said.
The 790th was stationed next to Baghdad International Airport, known to the soldiers as BIAP.
"It was a good year," Gregory said. "Everyone we took we brought back."
Eagen would spend his days transferring prisoners from the point they were brought on base to the prison and back when they were released. He would also ferry the relatives of the prisoners back and forth during visitation.
Gregory spent his time guarding prisoners. He said he was busy all the time in the prison, as inmates came and went.
The Torres sisters being deployed together was bitter sweet for their parents. While neither wanted to see them go to Iraq, knowing they would be together softened the blow. The Torres sisters come from a family of eight, and are the second and third youngest.
The sisters' first three months were spent at the detention facility next to Baghdad International Airport, but then went to pull security at the 28th combat support hospital in the International Zone, also called the Green Zone.
There the soldiers came across wounded Americans, insurgents and regular Iraqis.
"We definitely saw enough trauma there to last a lifetime," Maria Torres said.
While there Maria and Celia Torres were mortared every two or three days, something that was scary, according to Maria Torres.
"You can compare it to thunder," her sister added.
Maria Torres said when the mortars are close they are extremely loud. Because of that, she said she doesn't like loud noises anymore and isn't looking forward to the Fourth of July.
Eagen said the bombs going off in the area unsettled everyone at first but they quickly got used to it. Most of the times, he said, it was the army blowing up weapons.
"It got to the point where we couldn't sleep unless something was flying over or going off," Eagen remembered.
To pass the time soldiers would hang out at Morale, Welfare and Recreation facilities. These areas had pool tables, TVs, X-Box and Playstation consoles, internet and phones for the troops to relax with. Each soldier worked 12 hours on, 12 hours off.
Another item imported from the West was Pizza Hut, Taco Bell, Subway and Popeye's Chicken.
"It didn't taste the same but it was still a piece of home," Gregory said.
Each soldier interviewed was happy to be home.
Gregory is planning on transferring to a National Guard unit in California. Eagen is happy to be home but might go to Afghanistan next.
"My little brother wants to go," he said. "If he goes, I'll go with him."
Celia Torres says she is just happy to be back. She plans on going on a month long trip to Korea with a friend soon.
Her sister, Maria Torres, is looking forward to going back to Iraq, this time as a civilian contractor.
"Something makes me feel the need to return," she said. "Maybe it's the soldiers still there or service for my country."
Maria Torres said some things take getting used to when back here in the states. Just coming up to an orderly intersection is nice, she said.
"Everything over there is brown," she said. "There is color here."